Disc Herniation Specialist in Frisco, and Denton, TX
Common questions asked by patients: What is Disc Herniation? How long does it take for a disc herniation to heal? How do they fix a herniated disc? Is walking good for a herniated disc?
For more information,

call us

or schedule an

appointment online

. We serve patients from Frisco TX, Denton TX, Little Elm TX, Celina TX, McKinney TX, Plano TX, The Colony TX, Prosper TX, Allen TX, and the North Dallas Metro area.
Learn more about disc herniation specialists today. Call our team of professionals at the Pain Specialists of Frisco or visit us online to book an appointment. We have convenient locations in Frisco, TX and Denton, TX.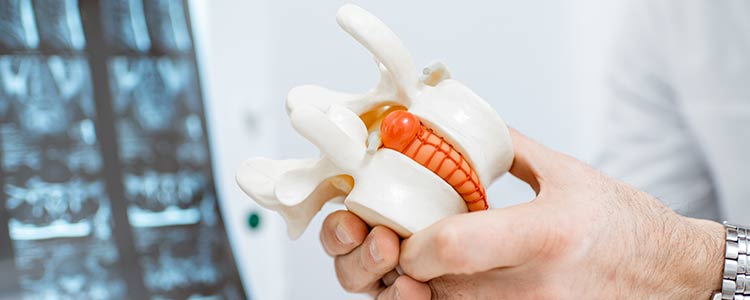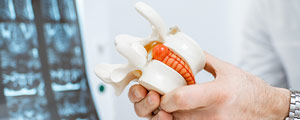 Table of Contents:
What is Disc Herniation?
How Long Might It Take for a Disc Herniation to Heal?
How Do They Fix a Herniated Disc?

What is Disc Herniation?

Discs found between the vertebrae in the spinal column are shock absorbers for the spinal bones. They serve to cushion the spinal bones. Disc herniation is the pushing of a fragment of the disc into the spinal from the annulus. This happens because of a rupture or tears in the annulus, and usually affects discs in early degenerative stages. Pain stemming from disc herniation can be severe as the disc presses on the spinal nerves due to its displacement.

Disc herniation can affect any part of the spine but are most common in the lower back. Herniated discs also occur in the neck. Depending on which part of the spine is impacted the location of the pain will vary. A herniated disc can be caused by an injury or excessive strain although there are many potential causes.

As an individual ages, it is natural for the ligaments keeping a disc in place to weaken and disc material to degenerate. The more degeneration occurs, the more minor an action is required to result in a herniated disk. Some individuals are more susceptible to herniated discs due to a variety of factors than others.
How Long Might It Take for a Disc Herniation to Heal?

A herniated disc may produce a number of symptoms, including numbness, pain, and inflammation. Depending on the location of the herniated disc the area in which symptoms are displayed will vary. In most cases, symptoms resulting from a herniated disc will disappear over the course of six months. Patients may be recommended over-the-counter pain relievers or be prescribed medication depending on how manageable the pain is.

It will also be recommended that patients avoid overly physical activities that cause discomfort or additional pain. Herniated discs do not always improve through following these methods and additional treatment strategies may be considered following another evaluation.

Non-invasive methods will be the first additional treatment options such as physical therapy. It is unusual for herniated discs to be treated by surgery, but it is used on occasions where the doctor suspects the spinal cord is compressing, patient movement is increasingly limited, or if they have not responded to therapy.
How Do They Fix a Herniated Disc?

When fixing a herniated disc, surgery is not advised until all other options have been explored. Treatments used prior to considering surgery include rest, pain relievers, nonsteroidal anti-inflammatories, steroid injections, and exercise or even physical therapy. If these options have been exhausted and the effects of the herniated disc are having a negative effect on the patient's quality of life, surgery will be considered.

Which surgery will be the best option for the patient will depend on the specific nature of their issue and a surgeon will usually order a number of scans to be conducted while considering factors such as age, overall health, and location of the herniated disc. Surgeries that may be used to repair a herniated disc include laminotomy, discectomy/microdiscectomy, artificial disc surgery, and spinal fusion.

There are varying degrees of severity among herniated disc symptoms, sometimes it causes little to no symptoms and for others the pain is debilitating and intense. However, certain uncommon symptoms can be indicative of a serious complication including loss of bladder or bowel control as well as muscle weakness, loss of fine motor skills and balance. Patients experiencing any of those symptoms should seek immediate medical care.

Any patient experiencing herniated disc symptoms affecting their quality of life would benefit from seeing a herniated disc specialist to establish the best course of action of treatment and pain management. Patients in Frisco, TX, can find a herniated disc specialist at the Pain Specialists of Frisco. We serve patients from Frisco TX, Denton TX, Little Elm TX, Allen TX, The Colony TX, Prosper TX, McKinney TX, Celina TX, Plano TX, and the North Dallas Metro area.