Non-Surgical Orthopedic Care Q&A
Contact us today or schedule an appointment online. To learn more about this service offered at Pain Specialists of Frisco in Frisco, TX and Denton, TX, visit us.
Treat your injuries today with non-surgical orthopedic care! Call our team of professionals at the Pain Specialists of Frisco or visit us online to book an appointment. We have convenient locations in Frisco, TX and Denton, TX.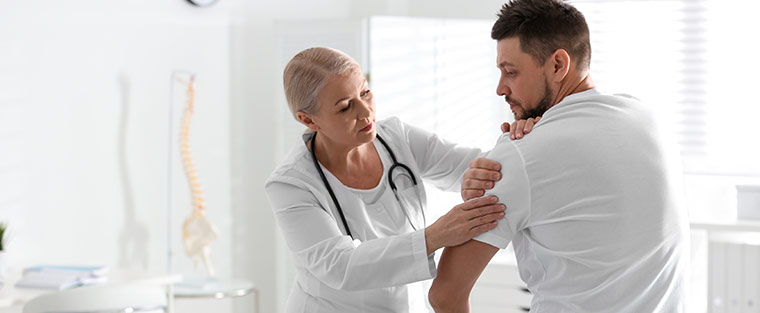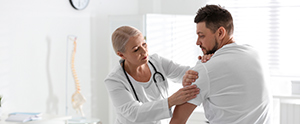 Table of Contents:
What is Non-surgical Orthopedic Treatment?
What is Non-surgical Orthopedics?
What Does an Orthopedic Doctor Treat?
What Are Orthopedic Patients?

What is Non-surgical Orthopedic Treatment?

Non-surgical orthopedic treatment options include patient education, injections, physical therapy, medication management and splinting for musculoskeletal conditions and injuries. There are several popular types of non-surgical orthopedic treatments.

– Ligament injury treatment. Get back to action faster, and with out surgery. 
– Exciting results from treating ligament injuries of  Knees/Shoulders/ankles with Regenexx procedures.  
– See the live and ongoing data from pooled database of nearly 90 Regenexx clinics across the country, of which we are a part of.

Physical therapy: This treatment aims to slowly restore strength and mobility to the affected area by a gradual strengthening of joints and muscles. Some conditions physical therapy can assist with include strains, sprains, fractures, scoliosis, neck pain, back pain, arthritis, and more. Physical therapy is often used harmoniously with invasive options like surgery as part of the rehabilitation process, but it can serve as the primary treatment option for certain orthopedic issues. Physical therapists consider each patient's diagnosis, physical ability, and overall health, to determine a treatment plan and timeframe that suits them.

Injections: Ortho-Biologics (platelet-rich plasma and bone marrow concentrate) injections are an increasingly common non-surgical option, they use injections to repair tendons, ligaments, and joints that have been damaged. This is also effective for treating arthritis. Platelet-rich plasma requires minimal downtime while working to reduce pain and heal the patient. The treatment works by taking a sample of the patient's blood, removing red and white blood cells, and using the platelet fraction, they are injected to the injury site where their regenerative properties assist with healing. This is often used for rotator cuff injuries, meniscal injuries, collateral ligament injuries, ACL Tears, osteoarthritis, back pain, hip pain, knee pain, shoulder pain, foot and ankle injuries, and more.

Stem cells are also sometimes extracted from the body's healthy areas and infused into the area of the injury to aid with healing. The stem cells are typically extracted from the bone marrow and can blend into the injured area using the body's natural healing ability to accelerate the healing process.

Medication is also used to reduce pain, stiffness, or swelling. Other non-surgical options are also available, patients should speak to an orthopedic doctor to determine which option is right for them.
What is Non-surgical Orthopedics?

Injuries to the musculoskeletal system, joints, muscles, and bones are often complex, however, there are occasions on which they can be treated in a non-invasive or minimally invasive fashion without the use of surgery. Non-surgical orthopedic treatments may not suit particularly severe conditions or injuries, but it is a popular option for many. Often even patients with more serious issues will consider non-surgical orthopedic treatments as a first step to see if surgery can be avoided.
What Does an Orthopedic Doctor Treat?

Orthopedic doctors diagnose, prevent, and treat injuries and conditions pertaining to the musculoskeletal system. The musculoskeletal system constitutes the muscles, tendons, ligaments, joints, and bones in the body.

They treat a wide array of medical conditions affecting the concerned areas from acute injuries to chronic pain to degenerative disease. Some orthopedic doctors treat musculoskeletal issues in the entire body while others specialize in specific areas of the body like the spine, hand, foot and ankle, shoulder and elbow, and so forth.
What Are Orthopedic Patients?

Orthopedic patients are patients that have any issues or concerns with their musculoskeletal system. Orthopedic doctors are an excellent choice for patients looking for someone to prevent, diagnose and treat musculoskeletal issues. Patients come to orthopedic doctors with various injuries and conditions.

Some common issues patients seek assistance for include pain (particularly in the muscles, joint, hips, and knees), tumors, osteoporosis, bursitis, arthritis (including rheumatoid arthritis and osteoarthritis) and more. Working with patients an orthopedic doctor will work to develop a custom care plan and determine which options are invasive or otherwise work best for patients.

Patients seeking non-surgical orthopedic care in Frisco, TX, can find it with the Pain Specialists of Frisco. The Pain Specialists of Frisco will work with patients to develop a treatment plan to promote a healthier and pain free life. We serve patients from Frisco TX, Denton TX, Little Elm TX, Celina TX, Plano TX, Allen TX, The Colony TX, Prosper TX, McKinney TX, and the North Dallas Metro area.